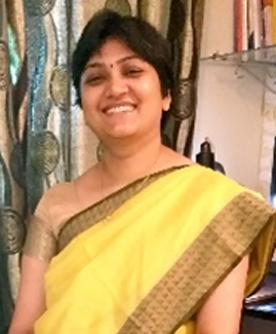 Dr. Kavita Ratan Patil
Assistant Professor
M.A, SET, NET, M.Phil, Ph.D (English), M.A (Marathi)
Ph.D : Translation as Afterlife: A Study of Marathi Theatre from 1860 to 1912.
M.Phil : Translation an Act of Interpretation, A Comparative Study of Kosla and Cocoon.
Visiting Faculty for M.A in English : IDOL- Distance Learning Centre, University of Mumbai, Department of English, S.N.D.T Women's University, Mumbai.
Fields of Specialisation under the Discipline:
• Translation Studies
• Archival Research of Literature
• Colonial Marathi Theatre
• William Shakespeare
• Western Feminism
• Marathi Literature
• Dalit Literature and Translation
About English as a Language
English, being a lingua franca of the world, spoken by 1452 million native and non-native speakers of the world, is a global means of inter-community communication. With hundreds of millions of people around the world using English daily, it is undoubtedly one of the most important global languages. In virtually every country, it is an essential part of academics, business, research, commerce, technology, politics, news, and many other fields in which the exchange of ideas is essential.
About the Department
The department was started in 1958 which offers English CC (Lower Level) to B.A. I, II and III (Hindi Medium) students. It offers English CC (Higher Level) to B.Com I, II and III (English Medium) students. Only compulsory component English courses are offered at Degree College with the intention of enhancing the language skills of the students. Language and communication skills are indispensable tools that help students to communicate, to exchange thoughts, ideas, and emotions with others. The faculty works hard to improve students' employability skills, communication skills and English language by conducting 'English for Career Advancement' Add-on Certificate Course and 'Spoken English and Communication Skills' crash course which includes activities like job-search, interviews, preparing resumes and covering letters, networking for a job, grammar, communication practice through dialogues, English movie screenings, language games, group discussions, and so on.
Subjects
B.A: Core Component English Course (Non-English Medium)
B.Com: Core Component English Course (English Medium)
| Sr. No. | B.A (Non-English Medium) | B.Com (English Medium) |
| --- | --- | --- |
| 1 | B.A I, SEM I, CC English (L.L), Paper I, 'Starting with English', 155101 | B.Com I, SEM I, CC English (H.L), Paper I, 110101 |
| 2 | B.A I, SEM II, CC English (L.L), Paper II, 'Exploring English', 255201 | B.Com I, SEM II, CC English (H.L), Paper II, 210201 |
| 3 | B.A II, SEM III, CC English (L.L), Paper III, 'Using English Effectively', 355301 | B.Com II, SEM III, CC English (H.L), Paper III, 310301 |
| 4 | B.A II, SEM IV, CC English (L.L), Paper IV, 'Advancing with English', 455401 | B.Com II, SEM IV, CC English (H.L), Paper IV, 410401 |
| 5 | B.A III, SEM V, CC English (L.L), Paper V, 'English for Empowerment', 555501 | B.Com III, SEM V, CC English (H.L), Paper V, 510501 |
| 6 | B.A III, SEM VI, CC English (L.L), Paper VI, 'English for Success', 655601 | B.Com III, SEM VI, CC English (H.L), Paper VI, 610601 |
Activities Highlights
Symposiums and Conferences
A National Symposium on "Narrative in Cinema and Literature"
A State Level Webinar on "Effective Communication Skills: A Key to Successful Career
Add-on Certificate Courses
English for Career Advancement
Spoken English and Communication Skills
Guest Lectures
Honing Writing Skills
Gender, Essence, and the Question of Being
75 Years of Women's Writing in India
Reading and Reading Stories
Quizzes
A National Level Quiz on Women's Writing in India
A National Level Quiz on 75 Years of Indian Writing in English Translation
Movie Screenings
Spirited Away
Gulliver's Travels
The Namesake
Romeo and Juliet
Lord of the Rings
English Vinglish
Train to Pakistan
Pride and Prejudice
Bride and Prejudice
Anne Frank's Diary
Shakespeare in Love
Short Films
One Minute Fly
No Arms, No legs, No Worries
Wind on a Hunted Hill
Workshops
Email Writing
Bio data/ CV Writing
Painting Appreciation
Film Appreciation
Employability Skills
Common Grammar Errors
Types of Graphs and Charts
Competitions
Story Telling/Enacting
Debate
Essay Writing
Elocution
Creative writing
Other Activities
Power Point Presentations
Remedial Course
Language Game Activities