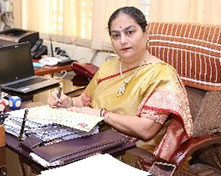 Smt. B.M.Ruia Girls' College is a student-oriented and student- centric institution, established in the year 1958 by a group of committed and dedicated members of Marwadi Sammelan. Their relentless endeavors and constant encouragement were responsible for the promotion of girls' education in our society. The college believes in a judicious blend of the traditional and the modern values, an amalgam of academics and extra -curricular engagements to shape each student into a confident, dignified and responsible human being. We motivate and empower our students to be life- long learners, critical thinkers, and productive members of an ever-changing global society by providing an atmosphere for multifaceted development.

The college offers regular Commerce and Arts courses at Junior College level, undergraduate courses in B.Com, B.A (Hindi Medium), BMS and BCA and post graduate courses in M.Com and M.A (Economics). It also offers the undergraduate course BMM under Sitaram Deora Institute of Management Studies.A number of UGC certificate courses in addition to career oriented vocational courses are also offered. We are proud to be an institution of education that provides a holistic, student-centric environment.

The college offers various facilities to students to participate in co-curricular and extra- curricular activities such as NSS, NCC, Sports, Seminars and Workshops, Intercollegiate competitions, etc. these activities provide students with a platform to think, express, and exhibit their skills. The faculty members of the college are well qualified having profound knowledge of their subjects and devoted whole heartedly to the well- being of the college and students.

From its inception, the college has never digressed from the ideals of the great visionaries, who started the college, who envisioned the progress of the world through the education and empowerment of women.


Dr. Smt Santosh Kaul Kak
Principal
Smt. B.M.Ruia Girls' College