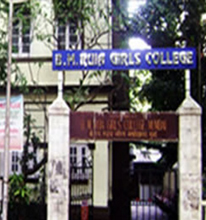 B. M. Ruia Girls College was established in 1958, then known as Hindi Medium College by Marwadi Sammelan, which was always in the forefront of propagating and promulgating Hindi. Impressed by the proficiency and dedication of the Sammelan, Smt. Nathibai Damodar Thackersey Women's University granted affiliation to the college in 1960. In 1963 the college received a generous donation of Rs. 75,000 from Smt. Bhagirathibai Manmal Ruia Trust, as a reciprocating gesture to this goodwill the college was named after the founder of the trust as Smt. Bhagirathibai Manmal Ruia College. For almost 10 years this college operated from Vidya Bhawan, Sitaram Poddar Marg, Mumbai.

With the growing popularity the strength of students also multiplied. The limited space available at Vidya Bhawan was restricting the sky high aspirations of the faculty and students. In the year 1968 the college was shifted to the present location, Krishna Kunj, Vachha Gandhi Road, Mumbai -7 and the small building of the college soon grew five storeys tall. To cater to the diverse academic needs of the students, the college started Higher Secondary classes for Arts and Commerce, ie. Junior classes along with the Degree Courses.

As an appreciation for the high standard of education and all-round development of the students, SNDT University granted permanent affiliation to the college in June 1979. Since then, the college has been introducing new market- oriented courses year after year. The college enjoys a minority status and is permanently affiliated to SNDT University.

Presently the college offers regular Commerce and Arts courses at Junior College level, undergraduate courses in B.Com, B.A (Hindi Medium), BMS, BCA, BMM. It also offers post graduate courses in M.Com and M.A (Economics) and distance learning undergraduate and postgraduate programs in partnership with IGNOU. UGC certificate courses in Mass Media, Fashion Designing, Human Rights and Duties Education, Promotion of Ethics and Human Values and Health and Fitness Management are also offered .in addition to career oriented vocational courses.

Smt B.M.Ruia Girls' College provides ample opportunities to students to participate in extra- curricular and co- curricular activities such as NSS, NCC, Sports, Yoga and Cultural activities that proves instrumental in shaping up the overall personality of students. Our infrastructure and our faculty are our greatest strength. We have modified our infrastructure time and again to facilitate easy and computer based learning for our students. We have an excellent library, Computer Centre, Auditorium, Canteen and Gymkhana. We are proud to be an institution of education that provides a holistic, student-centric environment.